Train The Trainer
By INLIV INmates | FITNESS
The INLIV Fitness team is preparing for our annual fundraiser, Train The Trainer! The money raised this year will be donated to the Alberta Children's Hospital Foundation.
Friday, November 17
5:30 – 7:30 PM at INLIV
Train The Trainer is an opportunity for clients to exact revenge for the workouts endured at the hands of our talented but tough fitness trainers. The trainers are put through a gruelling 120 minutes of insane exercise, all the while directed by their clients. Hate burpees but your trainer always makes you do them? Now's your chance to get even!
Join us for Train The Trainer! Challenge your trainer, or just drop by to watch the fun and make your donation.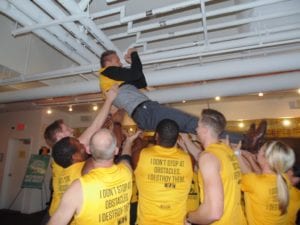 As hard as those two hours of intense exercise can be for our personal training team, they manage to do it with a lot of smiles and laughter, knowing it's nothing compared to fighting every minute of every day against disease and the challenges young patients face at the Children's Hospital.
Click here to learn more and donate online.
We're pretty proud of our fitness team! Over the years that our Train The Trainer funds have been directed to the ACH, our INLIV INmates have raised in excess of $100,000 for essential programs, equipment and services for the hospital. Other local charities have been the recipient of our Train The Trainer funds, as well.
For questions about Train The Trainer, email Anna, our INLIV Fitness Client Experience Leader.
Want more information about fitness at INLIV?